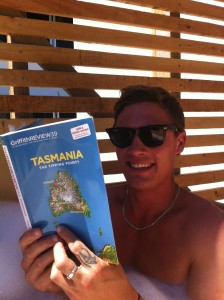 Kapacity.org director Natasha Cica has a reputation for producing engagement initiatives that inspire participants.

She is an accomplished writer, public speaker and broadcaster.

In 2013 Natasha co-edited the bestselling GriffithREVIEW 39: Tasmania – The Tipping Point? with Professor Julianne Schultz AM – which generated over $3 million worth of publicity, won a Walkley award, and continues to track strongly with leading opinion formers. Tasmania – The Tipping Point? was launched in Hobart's Town Hall by the Premier of Tasmania.

In 2014 Natasha anchored a conversation with Prime Minister of Australia, Julia Gillard at the home-town launch of her memoir My Story in Adelaide Town Hall, followed by a lively Q&A session.

Kapacity.org director Natasha Cica with former Australian Prime Minister Julia Gillard – photo credit Tony Lewis + Adelaide Writers Week

Natasha's award-winning first book Pedder Dreaming: Olegas Truchanas and A Lost Tasmanian Wilderness was published by the University of Queensland Press in 2011. Pedder Dreaming was launched at the National Portrait Gallery in Canberra by the (then) Governor-General of Australia – the Honourable Dame Quentin Bryce AD CVO.

In 2006 Natasha established NewMatilda.com as its founding editor. She has written for The Age, The Sydney Morning Herald, The Australian Financial Review, The Australian, The Guardian and more.

Natasha's keynote presentations include the graduating address for the ANU College of Law at the Australian National University, the Overland Lecture, the Webber Lecture, and special presentations for The Committee for the Economic Development of Australia, The Northern Institute and the Northern Territory Anti-Discrimination Commissioner, The Lionel Murphy Foundation, the Royal Australian and New Zealand College of Psychiatrists, and Communities in Control.